Yet another study showing that right wingers are very insular and myopic in their news consumption.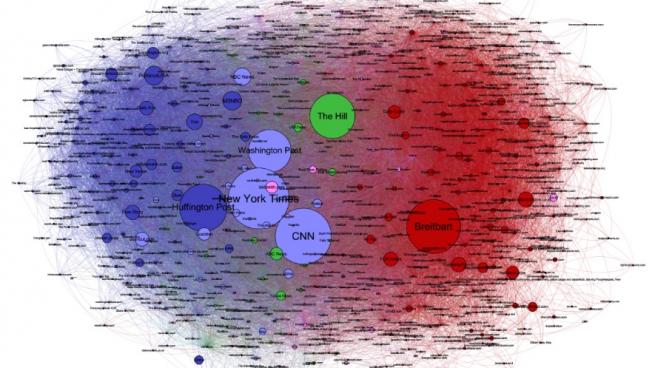 A major new study of social-media sharing patterns shows that political polarization is more common among conservatives than liberals — and that the exaggerations and falsehoods emanating from right-wing media outlets such as Breitbart News have infected mainstream discourse.
The CJR study, by scholars at the Berkman Klein Center for Internet & Society, at Harvard Law School, and the MIT Center for Civic Media, examined more than 1.25 million articles between April 1, 2015, and Election Day. What they found was that Hillary Clinton supporters shared stories from across a relatively broad political spectrum, including center-right sources such as The Wall Street Journal, mainstream news organizations like the Times and the Post, and partisan liberal sites like The Huffington Post and The Daily Beast.

By contrast, Donald Trump supporters clustered around Breitbart — headed until recently by Stephen Bannon, the hard-right nationalist now ensconced in the White House — and a few like-minded websites such as The Daily Caller, Alex Jones' Infowars, and The Gateway Pundit. Even Fox News was dropped from the favored circle back when it was attacking Trump during the primaries, and only re-entered the fold once it had made its peace with the future president.

Washington Post media columnist Margaret Sullivan, writing about the study earlier this week, recalled talking with a Trump voter in Pennsylvania who said she didn't support Clinton because "I didn't like how she stole those emails and it got people killed in Benghazi" — a perfect storm of misinformation.
A Major New Study Shows That Political Polarization Is Mainly A Right-Wing Phenomenon | WGBH News